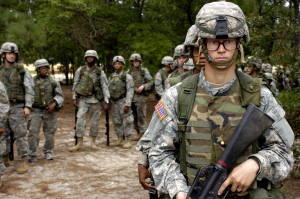 When we say we practice mindfulness, we're really talking about training. It's just like going to the gym.
When we start on the treadmill at the gym, in the beginning we can only do 10 or 20 minutes. But if we keep doing that 20 minutes we'll find that eventually we'll be able to do 30 minutes, then 40. Our body responds to the steady routine of the treadmill by developing more stamina. Or when we start lifting weights, we may only be able to lift 10-pound dumbbells. Then our muscles get stronger and we can lift 20-pound dumbbells, then 30. The steady, consistent training in weight lifting expands the capacity of our muscles to lift heavier weights.
Mindfulness is the same way. When we're trying to be mindful of the breath, at first we can only keep the mind on the breath for a few moments at a time. The breath is like a marble that keeps bouncing away from us: we keep having to chase it. But if we keep training ourselves to be with the breath, to be mindful, we discover that we can stay with the breath for longer periods and when we do lose it we come back to it sooner. Also, when we meditate on the breath on a regular basis we begin to notice that the gaps of time when we are not being present are of shorter duration.
So in the gym we build up our muscles day by day. Then one day a friend asks you to help her move a couch, and you can do it because you've got the strength. You've been training. The same is true with meditation. When we face difficulty in meditation, we're learning how to face difficulty in our lives. If you learn how to be with the breath when it's feeling tight, or to be with the body when there's pain, or to be with difficult emotions, you're doing the heavy lifting of your life — you're training yourself to engage your challenges in a healthy and responsive way. If you become annoyed by a train of thought during meditation, the annoyance is the same as when you get irked by something your boss says. The difference is that in meditation you have a chance to work with the annoyance without getting lost in acting on the annoyance — like getting into an argument with your boss.
It all comes down to meeting our suffering just as it is. Sitting and breathing while you have a stabbing pain in your shoulder, or a maddening itch on your nose, or a feeling of loneliness and loss in your belly — staying with these things without trying to fix them opens our hearts and minds in ways they wouldn't open if we avoided them. If we scratched that itch or ate some chocolate instead of allowing ourselves to feel lonely, we would lose the opportunity to train ourselves to face our suffering. One thing about suffering: we can't cure it by avoiding it. If we avoid it, it usually gets worse. Or else it goes underground, which then causes stress. Mindfulness teaches us that we can transform our suffering not by avoiding it but by moving toward it and meeting it with presence, honesty, and openheartedness. If we can find our ground in the midst of our anguish, something eventually happens to the anguish: it expends its negative charge and transforms into a teaching about our life.
When soldiers first enter the Army they go to basic training. With mindfulness, basic training is also advanced training. You never outgrow the need for learning the basics. To be present for things just as they are, to open our hearts to what is difficult, is actually quite courageous. For this reason you could say that just like a soldier in training, you need to have a warrior spirit to really be mindful. And you also need the discipline to stay at it day after day.