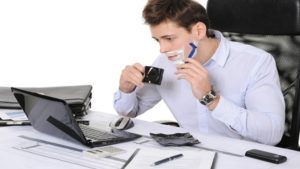 When you're working really hard and it's time to take a break, what do you do? What does it mean to take a break? Is a break walking away from your desk while checking out your phone for messages, visiting Facebook for updates from friends, or browsing your favorite news blog? Is taking a break eating at your desk while web browsing? Or is it visiting a colleague to have a business conversation? Many people believe they have to be productive all the time, so even when they take a "break" they have to do something potentially useful. (A student of mine once confessed that when she brushed her teeth at night, she was texting friends with her free hand. She explained that brushing her teeth wasn't accomplishing enough!) The problem with these kinds of breaks is that they keep the mind focused on conceptual experiences. But a true break means we are giving the brain a break from concepts. Brain scans have shown that when people are focused on concepts – doing work, for example – many regions of the bran light up. The brain is expending a lot of energy when we are doing things that take conceptual focus. When we expend this kind of energy without pause, hour after hour, it can be quite exhausting. When we are exhausted, our performance suffers, our inner sense of well-being declines, and our health can suffer as well. Burnout and lack of engagement often follow.
A true break, on the other hand, is all about letting go of concepts and allowing the brain to rest in a being state. The idea is that when you take a break, really take a break from the doing mode – the mode that uses concepts – and rest in the being mode. An example might be sitting on a park bench, without reading or thinking, but just enjoying the park. Or doing something with your hands like washing the dishes or gardening. Going for a stroll is another being-mode activity (so is walking the dog). Doing 10 minutes of mindfulness practice is another example of resting in the being mode. As is eating a meal mindfully.
When people take a break from concepts and rest in the being mode, scans of their brains show much less activity going on. Their brains are getting rested, which means they are getting the refreshment that is needed to bring about sustainable focus and performance. Jon Kabat-Zinn once quipped that we humans are so busy all the time that you could almost call us "human doings" rather than beings. But being is a fundamental aspect of who we are. Being does not require us to get things done and perform. It has its own power and dignity. And as long as we connect with our being on a regular daily basis, it will not only help sustain our effectiveness, but it will keep our perspective on life open and responsive.