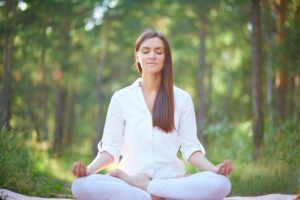 There are literally thousands of ways of meditating. There are many traditions and many paths. But perhaps the most fashionable form of meditation these days is the practice of mindfulness and the industry of mindfulness spawned by it. This is a trend that began more than a decade ago and is still very much current. We've all seen the magazine covers of stories on mindfulness featuring a blissed out meditator – often a young, white woman – in a perfect lotus pose, looking calm and transcendent. As if this is a typical outcome when meditating (or that young, white women represent the kind of people meditation is for).
Then of course we hear about the latest findings from science. The studies that show how mindfulness can decrease stress, delay aging in the brain, increase the immune response or strengthen the ability to focus and be productive at work. In our age of collapsing spiritual traditions, science is often viewed as a secular religion, and when secularists hear about the positive science surrounding mindfulness they get downright giddy. And interested.
With so many blissed out people on glossy magazine covers and so much edifying hard data about benefits, it seems like you'd be crazy not to practice mindfulness!
The truth, though, is more complex. The goal of mindfulness, when properly understood, practiced and taught, is not, ultimately, about achieving some alpha state of mental performance, or about feeling blissed out or radiantly calm (although these states can and do result from regular intensive practice). Another way of saying this is that mindfulness is not supposed to be fun, easy, or calming. It is not about having no pain. In fact, mindfulness – when it is practiced with even a small amount of depth – is all about meeting pain – raw, human, everyday pain – with honesty, openheartedness, and clarity.
I got up early one morning and began my routine of sitting in meditation. All things seemed normal as I settled onto my bench. But within a minute I noticed that my stomach was feeling unsettled. Soon that feeling in my stomach intensified and became queasiness. After a few more minutes I noticed that my shoulders were hot and my face felt flushed. I became overheated all at once, which then intensified my stomach distress. I took off my sweatshirt in response and soon felt the morning air from the window start to cool me down and provide relief.
After about 10 minutes, I began to yawn frequently. I had not gotten a great sleep that night, but the yawning – deep, loud yawning – seemed not connected to being tired. Then I remembered that frequent yawning is often a sign of anxiety. This was an odd realization for me, because I didn't feel particularly anxious when I woke up. Am I anxious? I asked myself. As I sat there over the next few minutes I found an answer to that question by sensing into my chest, slowing down my thought processes, and noticing what I noticed. I soon realized that I was, in fact, feeling quite anxious. About 20 minutes into my sit and after repeatedly yawning, I began moving my hands along my thighs in a sign of restlessness. Another aspect of anxiety. At 25 minutes in I started to fidget constantly, scratching itches on my head or face and yawning every few seconds, my body amped up and charged, as I realized ever more immediately the extent of my anxiety. My distress had been hidden, embedded in my body, and was now unfolding as a result of practice. My whole body felt uncomfortable now, my focus was totally shot, and yet I continued to sit on my bench, simply being with my discomfort, acknowledging it without judging myself for it. By the 45 minute mark I recalled saying to myself, "This really sucks. I don't like it. Ugh!" I sat with my dislike of the discomfort and continued noticing my reactions. I spent an hour feeling like crap, but without resisting it.
When I stood up from my bench after an hour of very un-calm, un-blissful practice, I was feeling far more alive, far more connected to myself, and far more in touch with my own doubt and pain. But I was also far more connected to my own resilience and strength for being with it all. My Yawning Meditation had not been fun at all, nor did I ever feel a sense of pleasure or wisdom the whole time I was doing it. Yet wisdom was manifesting itself simply by my being willing to experience my reality exactly as it was revealing itself without feeling like I should have been having more fun or being more "productive."
Mindfulness, above all, is about being with the truth and seeing it clearly. Not the cliched, superficial magazine cover truth – but the very messy truth of our lives.