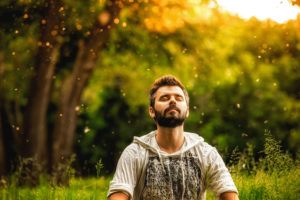 Many meditation teachers say that there is no wrong way to meditate. That showing up and doing the practice is what's important. Having said that, the following list of common mistakes or misconceptions about meditation keep showing up in my teaching with students. They are:
1. Not Doing it Every Day
Like any healthy habit, meditation should be practiced every day. When we embark on a meditation practice, we are essentially committing ourselves to an ongoing process of training the mind. That doesn't mean training the mind on some days but not on days when we don't feel like it. Sitting every day for just a few minutes is far better than sitting once a week for an hour. That's because the continuity of mind-body observation established by daily practice keeps us close to the realm of awareness. When we practice sitting every day, we are more likely to respond with awareness in our daily activities and to be less reactive. Even if you only sit for 10 minutes a day, your practice is having an effect on your brain, on the way you relate to the world and others, and on your ability to focus. So if you take your practice seriously, find a way to carve out some time each day to do it.
2. Trying to Get Rid of Thoughts
It's a common misconception that when we meditate one of our goals should be to have a blank mind, without any thoughts in it. Unfortunately the mind doesn't tend to cooperate. One of the more humbling aspects of meditation is the recognition that we can't really control our thoughts. They tend to come and go rather randomly. If we try to get rid of our thoughts, essentially trying to do the impossible, we place ourselves in a contentious and aversive relationship to our minds. We are being unkind to ourselves. What we can control, however, is how we relate to our thoughts. Rather than trying to get rid of our thoughts, we should aim to notice how they appear and disappear, and what mental habit patterns they reveal. When we see the transitory nature of our thoughts, and the thought patterns that drive our behavior for good or ill, we see that we have a choice about which thoughts to follow and which to let go of.
3. Trying to Have Only Positive Thoughts
On the flip side, many people have the misconception that if we do have thoughts during meditation, they should be positive, wholesome thoughts. "I must be a terrible meditator," people say, "because I have so many negative thoughts in my head!" Since many of our thoughts are based on a negativity bias in our brains and distorted habitual thinking from our personal histories, ruminative and unpleasant thoughts are very normal. They are a part of being human. And when we let those negative thoughts into our awareness, we are giving the fullness of our humanity its due. You are far better off knowing the judgments, biases, and fears inside your mind than not knowing about them. To know your thoughts rather than to judge them is a very helpful attitude.
4. Thinking that Being Calm is the Precondition for Practice – or Its Goal
Over the years many people have told me, "I couldn't meditate this week because things were really frantic. I just wasn't relaxed enough." Or, "I was so agitated when I tried to sit that I knew it wouldn't do me any good." Etc. People have the idea that they need to get rid of all the negative stuff before practicing. But if we waited for things to become perfect before we meditated, we would never meditate! In addition, many people believe that their practice is a failure if they don't feel relaxed at the end of it. "Isn't being calm the goal?" they ask. No, actually. The goal of meditation is to be present for what arises without needing to change it or fix it. If you sit for 30 minutes with your anguish, doubt, anger, or fear, you will become very knowledgeable about the forces driving your behavior. You will also have cultivated patience, insight and self-compassion. If you sit with your negative states long enough, your relationship to those negative states – and the states themselves – will start to change.
5. Believing that Frequent Loss of Focus is a Sign of Failure
When you go to the gym, every time you do a rep with a dumb bell you are developing the strength of your muscles. It's the same with meditation. Every time you notice you have lost your focus and then come right back to your breath, you are doing a mental rep which increases the strength of your mindfulness. So instead of thinking that you are a bad meditator because you frequently wander away from your object of meditation, take it as a sign of success that you keep bringing your mind back. They call it meditation practice for a reason.
6. Not Making Adjustments When Conditions Change
Your meditation practice is alive. It reflects the conditions of your life, your world, and the changing nature of your body, mind, and heart. Just like life, a meditation practice is something that evolves over time. It isn't static. It lives. What worked for you for the last year may suddenly stop working for you now. What happens then? For years I knocked my head against the wall by counting my breath when it wasn't effective for me. No one had told me there were other things I could do besides count! I finally figured it out and realized that my practice was a vital, growing thing. One of the things that makes meditation practice an art is that you need to use your intuition to determine how to work with changing experiences. Conversely, some people make the mistake of changing their practice too often. Getting bored with something they're trying then moving on at the first sign of difficulty. Your own judgment and inner knowing, and the advice of skilled teachers, can help you stay the course when you need to, and try something else when that's what's needed.
7. Believing Your Boredom
Meditation is the act of sitting and being with ourselves and noticing how things are and what's going on. A big part of this is the willingness to be curious about our experience. People have often told me that they hated doing this or that practice, because "It was so-ooo boring!" I always tell people that if you are experiencing boredom, get interested in it! Often beneath boredom there are other emotions, like doubt, anger, and fear. Boredom is a great way of putting a veil over our wounds and keeping us from knowing ourselves. You don't need to change your boredom per se, but try not believing it either. If you stay with your boredom long enough, treasures will be revealed.
8. Beating Yourself Up
Being kind to yourself and practicing self-compassion is the most effective way of sustaining a lifelong meditation practice. Because meditation reveals the messiness of our all so human lives, it takes great courage, patience and self-care to endure it all. If we beat ourselves up, we'll stop practicing. If we care for ourselves with an open heart, our practice will serve us for life.